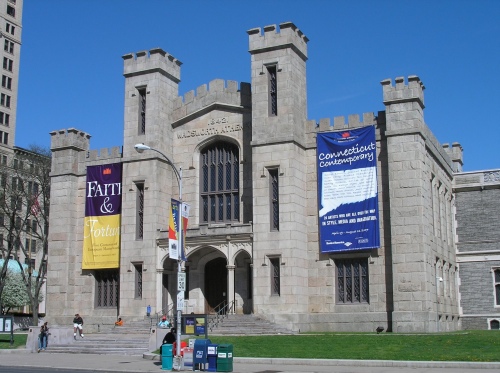 The weather was excellent this weekend. I started off Saturday, walking around
downtown Holyoke
and relaxed at
Heritage State Park
by the canals... good news,
Canal Walk
is scheduled to break ground in a few weeks.
For the evening, Elizabeth and I headed up to
Brattleboro, VT
. It's a laid-back, little town with an evident emprace for arts and local, independent business. After walking around downtown and checking out a few shops and galleries, we saw a movie at the
Lathis Hotel & Theatre
.
The Latchis
is a landmark Art Deco building that holds a theater, restaurant, hotel, and shops under one roof. On a side note, did you know that two of the most prominent North American architects were born here?
Richard Morris Hunt
and
William Mead
came from this small town.
On Sunday, we took a day trip to
Hartford, CT
. We started at the world-class
Wadsworth Atheneum
, a true gem and the oldest art museum in the country. In addition to the grand permanent collection, they had a great piece by Dutch artist
Folkert de Jong
that caught my eye. After spending a few hours enjoying the art of the Wadsworth, we walked over
Bushnell Park
. On a sunny day like today, the park was full of life... and masses of
Deadheads
that infested the city for tonight's show. We then drove over to
The Mark Twain House
and
Harriet Beecher Stowe's house
. There's so much to see in the region. Dum-de-dum-de-dum-dum-da-dum-day...
Oh, New England.